Prevention and Control of Hygiene Cleanliness & Safety
We care on the additional measure to safeguard the wellbeing, we have been briefed on the guidelines provided by local health authorities.
We welcome our guests into our villa with the same warmth and hospitality (Balinese Family Hospitality) we are committed to keeping you informed and to care for you as our valued guest here at The Bidadari Villas & Spa
Reservation and Cancellation Policy
We have enhanced our cancellation policies for existing reservation without a penalty as follows:
Guests traveling with new or existing direct bookings for stays in any of our property through July 31, 2020 will have their worry-less to change or modify the reservation until 2021. Cancellation or change penalties waived if the request is received at least 24 hours (or less if permitted by the villa's policy) prior to arrival.
Guests who are prohibited from traveling to their booked villa under applicable law will have their cancellation or change penalties waived on direct bookings.
For new or existing direct bookings with arrivals after July 31, 2020, all of our properties are required to accommodate non-cancellable rate reservation changes if the request is received at least 48 hours prior to arrival and the same number of room nights or more are booked for a future stay.
For bookings made by a travel agent or online booking platform, guests are advised to contact the agent or booking platform directly.
*Important Information:
Some exclusion may apply. May exclude periods with special event restrictions or peak demand periods. Please refer to individual property rate policy for details.
Individual (transient) guestroom reservation refunds of any kind (e.g., cash or credit voucher) may take up to 180 days from the date of cancellation to be processed. The form and timing of refund may be subject to applicable laws in place.
Each individual booking to the villa with term and condition including cancellation guidance is available The Bidadari Villas & Spa
For group organizer questions on terms and conditions of group contracts, please contact the villa.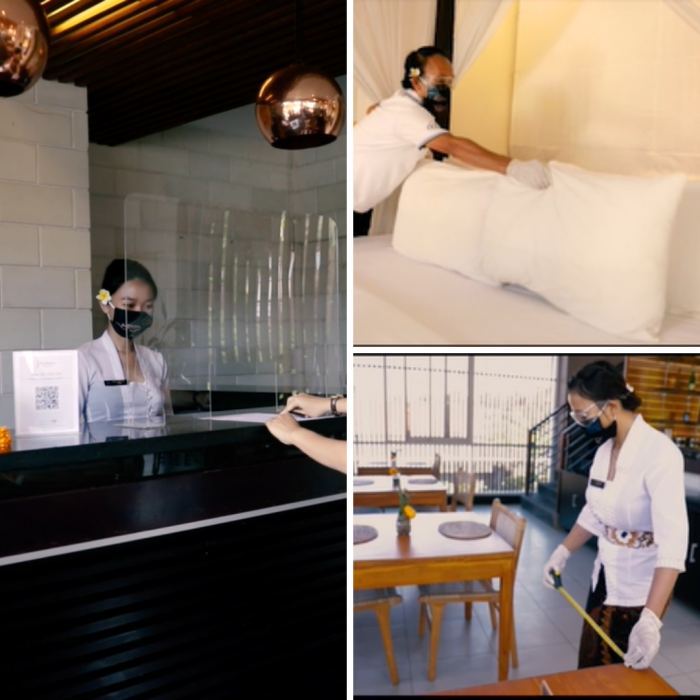 Our number one priority is the well-being and safety of our guests and team members. To secure just that, we have rigorous procedures and routine in places at our property regarding : enhanced cleaning, physical distancing and our food and beverage offerings.
How we secure the safety of our guest and team members
New processes for cleaning and hygiene through training to all team in enhanced cleaning routines, both within personal hygiene and new cleaning routines. Room features such as pens, note pads, and information material are removed from room and meeting room. We are also following COVID 19 guidelines provided by local health authorities.
Physical distancing with limited number of seats in our restaurant and public areas. Guest will finds floor markers in receptions, in the elevators and in our restaurant, as well as reminding our guests and team members to keep distance.
Revised food and beverage offerings. We provide the possibility for an individual packages breakfast throughout year 2020. A limited of food and beverage such as warm and cold drink, snacks, sandwiches, salad and sweets are available in our shop
VILLA'S HYGIENE
We take standards for hygiene and cleanliness very seriously and are taking additional steps to ensure the safety of our guests during in the property. On a daily basis, our villa's team are working to ensure that they meet the latest guidance on hygiene and cleaning.
Our villa's health and safety measures are designed to address a broad spectrum of viruses, including COVID-19, and include everything from hand washing hygiene and cleaning product specifications to guest room and common area cleaning procedures.
Specific steps we are taking include:
General Health, Safety and Knowledge: Hotel & Villas Group – and their own health, safety and knowledge – are essential to an effective cleaning program.
Here are some ways we're supporting them:
Infrared thermometer available at front office to conduct temperature check of our guests and employee.
Provision of medical masks and gloves forour guest and employee upon request
Hand sanitisers placed at guest contact areas such as property entrance, lobby and meeting
Proper and frequent hand washing is vital to help combat the spread of viruses. In our daily meetings, our teams are reminded that cleanliness starts with this simple act. It's important for their health and that of our guests.
Rigorous cleaning and sanitation of guest room. Villas use cleaning and disinfecting procedures to clean rooms after guests depart and before the next guest arrives, with particular attention paid to high-touch items.
Frequent sanitation of high-contact points,such as door handles, reception counter, public bathroom, and meeting room
Villas have increased the frequency of cleaning and disinfecting in public spaces, with a focus on the counter at the front desk, door handles, public bathrooms and even room keys, parking area, entrance, lobby, restaurant, Spa.
Regular training of employee ensuring proper hand hygieneand awareness of Covid19.
We care on the additional measures to safeguard their wellbeing, we have been briefted on the guidelines provided by local health authorities, to render assistance to any guest that may feel unwell.
We welcome our guests into our villa with the Balinese Family Hospitality. We are committed to keeping you informed and care for you as our valued guest here at The Bidadari Villas & Spa